The University of South Carolina's (UofSC) 110,000-square-foot Football Operations Center presented the perfect opportunity to unite the Gamecocks Football program under one roof. The facility needed to embody the Gamecocks' story and inspire the next generation of student athletes to build their own legacy, while also providing all of the resources and technology necessary for training at a peak level. Additionally, the Center needed to effectively appeal to a variety of other audiences, including alumni and fans.
State of the art storytelling.
The 36 panel video board presents nearly 56 million pixels of ultra-hd Gamecock Football content.
All-time Gamecock teams represented on the multi-touch interactive table.
---
Experiential Master Planning
Branded Environments
Content Strategy & Creation
Recruiting Environments
Technology Integration
Interactive Content
Wayfinding + Signage
Exhibition Design
Donor Recognition
The Jack Porter team worked closely with the project's architects, Quackenbush Architects + Planners and Gensler, to ensure that the story and legend of Gamecocks Football were embedded in the Center to its core. Both the facility as a whole and its many different interactive spaces were designed to present a seamless story of the spirit, tradition and achievement of the Gamecocks to fans, recruits, and players alike. Upon entering the building, guests are met with a two-story video wall that presents an unforgettable welcome with its high-intensity glimpses into the Gamecocks' impressive history.

The athlete entrance and corridor, exclusive to only current players and recruits, was a key component to the overall impact of the Center and incorporated an array of multimedia displays that featured the unmistakable Gamecock football uniform and gear. An additional exhibit of top NFL talent born out of the Gamecocks program is where digital and physical converge to produce an unforgettable pinnacle to every recruit's Long Family Center experience.
A rich tradition brought to life.
In the building's grand atrium, multi-user touchscreen experiences allow users to dive deep into the history of gamecock football.
Physical & digital converge.
Rethinking the traditional NFL display, the helmets themselves become the user interface. Touching the helmets activates related content on a monitor hidden beneath a mirrored surface.
Battle Armour
The full arsenal of game day gear is uniquely displayed in 6 custom lockers featuring smart tint glass faces. When visitors enter that space, the lockers are triggered from their frosted state to clear, revealing the uniforms hidden within.
From Rendering to Reality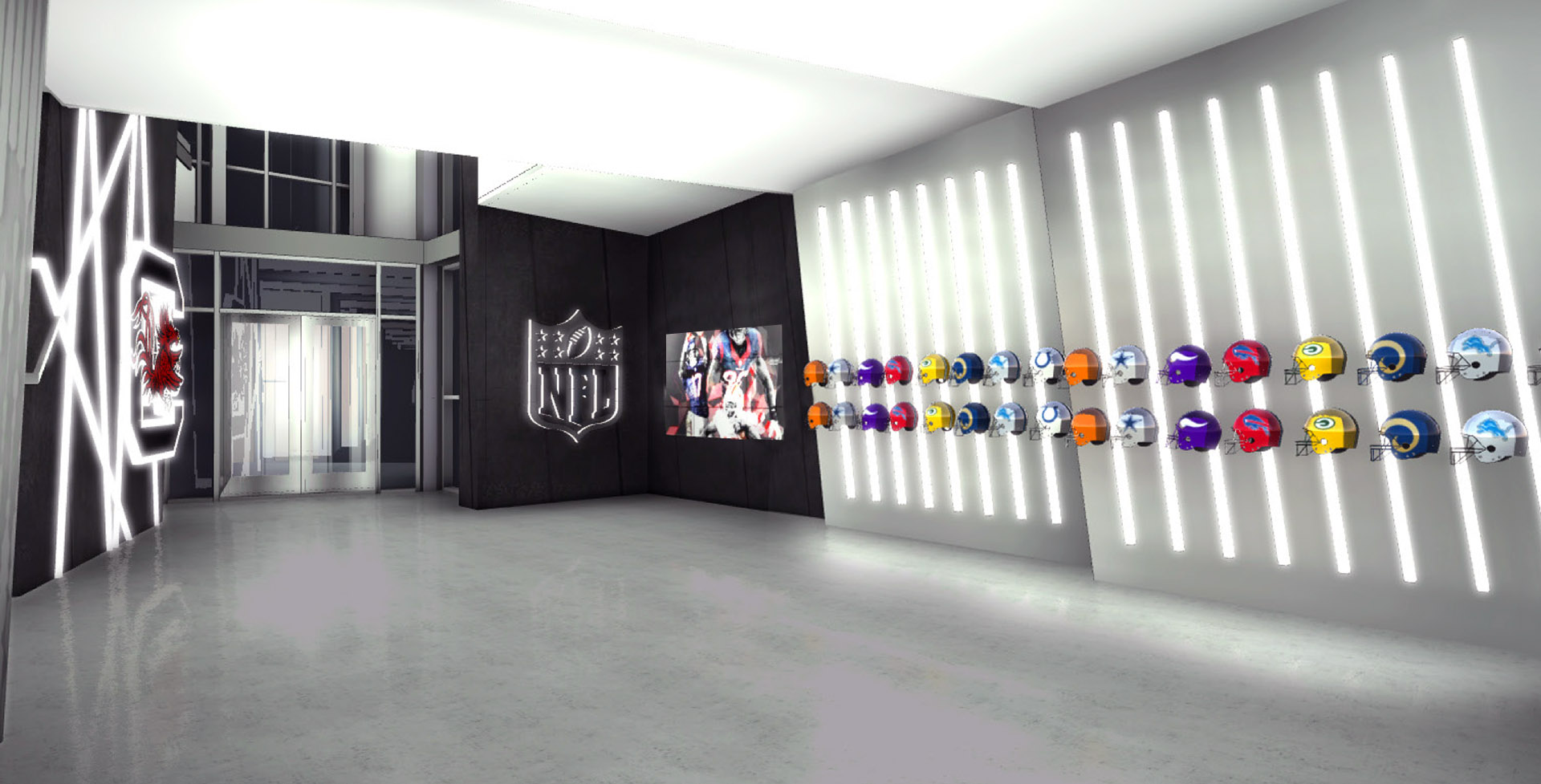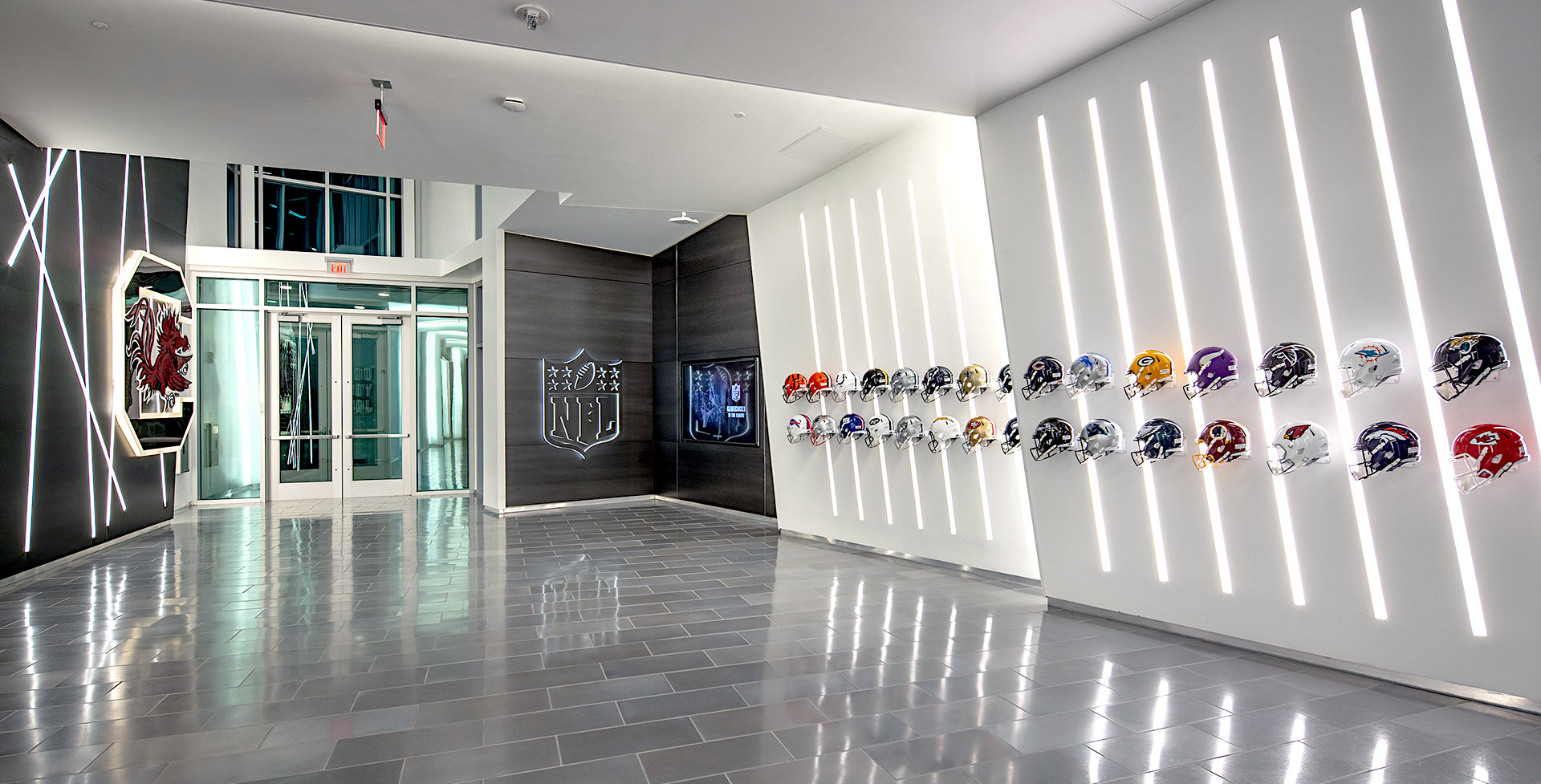 Over the course of 3 years, the design for the space was developed and refined. The end result was a true reflection of the vision that was articulated along the way.
The innovative and impactful Long Family Football Center has set the stage for a dynamic future of welcoming recruits and Gamecocks fans to experience the best of South Carolina football. A soaring physical space integrated with engaging, flexible technology ensures a memorable experience for all who enter.