Cardinal Stadium housed an 18,000 square foot underutilized club space spanning from the 10-yard line to the 10-yard line. The University of Louisville came to Jack Porter with big dreams of having a place that donors, suite holders, and the greater Louisville community could enjoy, and both the design and installation needed to be completed in under a year. The team developed a "new old fashioned" concept that facilitated a partnership with a local bourbon distillery, Angel's Envy. With this company on board as the naming rights  partner, Jack Porter embarked on fully developing the design of the space and joined forces with Luckett + Farley and Buffalo Construction to get the project across the finish line. 
What I am hearing from fans, donors and everyone in this community, it's the best venue in the city, it's the best project you guys have ever done in the athletic department, it has been over the top.

 
Michael Dudas
Senior Associate AD/Development
UofL Athletics
Once the U of L athletics team established a partnership with Angel's Envy, the Jack Porter team sought to create an experience reflecting the city's rich culture of bourbon, horse racing, and forward-thinking character. The club space, not updated since 1997, gained new function with an added mezzanine level and two speakeasies. The additional intimate bars bring down the space's massive volume to accommodate a private event or exclusive bourbon tasting. The new mezzanine level allows Cardinal Football suite holders convenient access through the "Cardinal's Nest" down to the club. Underneath the massive two-story staircase, VIP guests will find sophisticated bourbon barrels with nods to Angel's Envy's story and rich bourbon culture of Louisville. Custom touches, including lantern-style light fixtures, Vanity Fair-inspired football graphics, branded bourbon barrels, and copper accents, work in unison with the finishes to create a warm, inviting, and functional hospitality space that is uniquely Louisville.
The Cardinal's Nest
An origami-style cardinal sculpture with a massive 20-foot wingspan "nested" in an exploded bourbon barrel adds a dramatic centerpiece to complete the new mezzanine level.
Guardian Lounge
Two speakeasies were built, bringing down the space's massive volume to accommodate a private event or intimate bourbon tasting, adorned with a sophisticated gothic "L" and vintage programs on the walls.
Horse Racing Heritage
A "Louisville" mark pays homage to the horse blankets and the pageantry of Churchill Downs, which can be seen from the Angel's Envy Bourbon Club windows.
A Vintage Touch
Vanity Fair-inspired football photos on the mezzanine level celebrate the history of Cardinal Football in an elevated and unexpected way.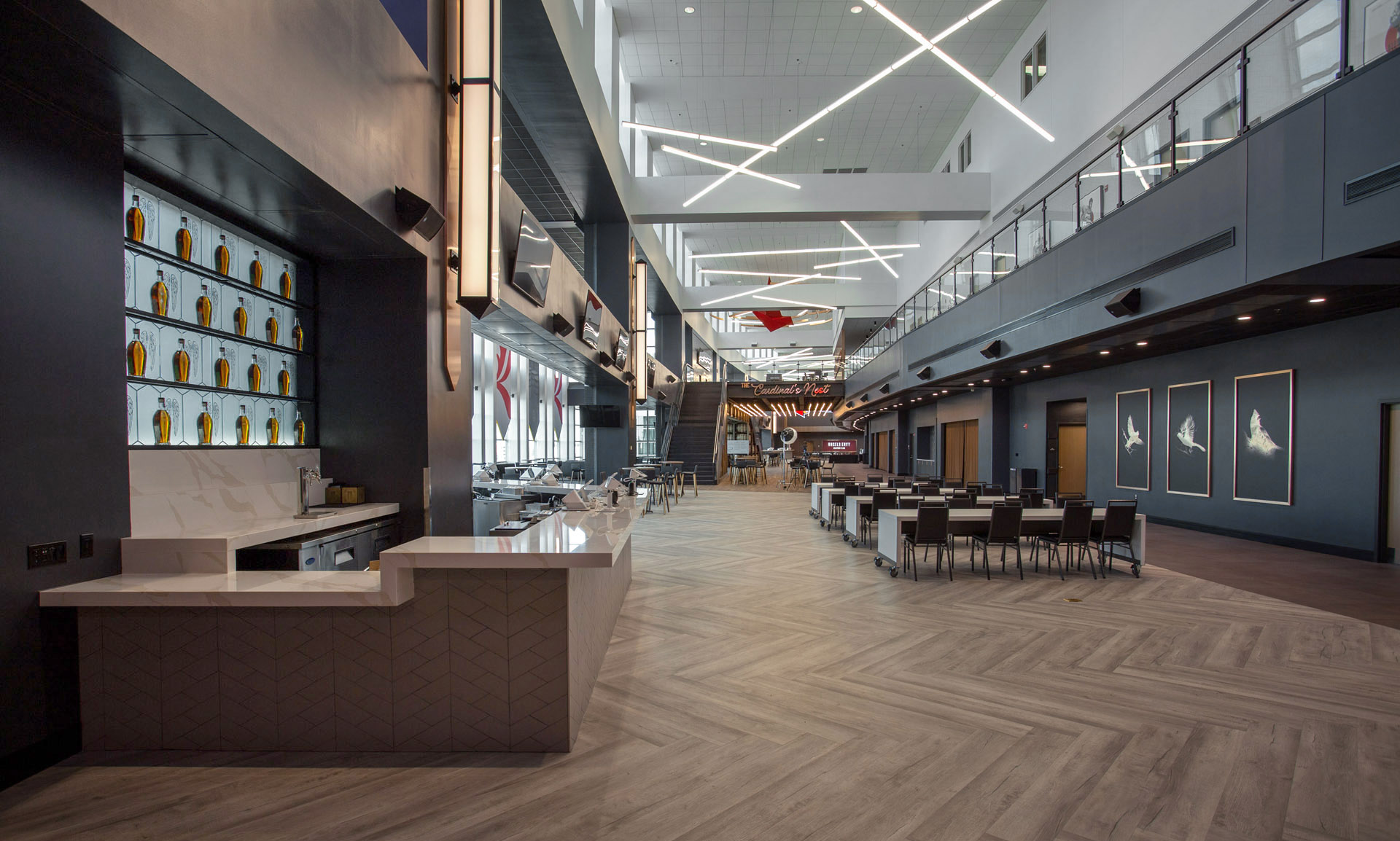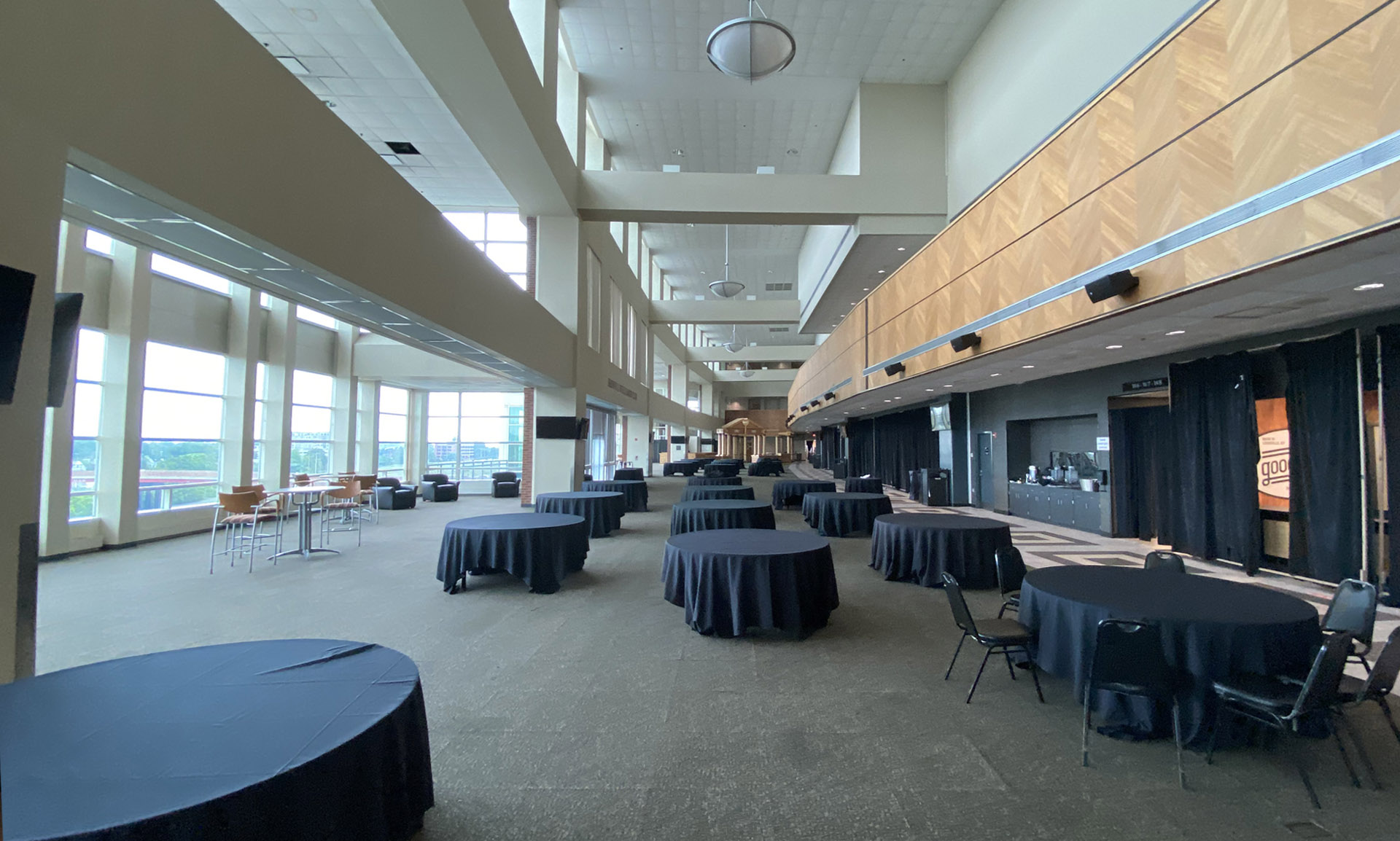 Jack Porter, with our GC and architect partners, completed the design and installation of the new Angel's Envy Bourbon Club in just one year, and guests can now enjoy the club far beyond a home Cardinal football game. This reimagined space now hosts weddings, watch parties, corporate gatherings, and more. The University of Louisville's Associate Athletic Director, Michael Dudas, shared that the project "looks just as good if not better than the renderings from day one," and is now the "best venue in the city."